Real estate lawyers spend most of their time on conveyances, the legal process of transferring real property from one legal person to another. Invariably, any real estate lawyer will find themselves managing legal entities as part of their practice, even if the management of legal entities is merely incidental to their primary practice.
The areas of real estate law and corporate law are often very much intertwined. Many, though not all, real estate lawyers service multiple legal areas for their clients and when it comes to sizeable commercial real estate deals, many aspects of business law may come into play, for example:
Financings to support the purchase of commercial real estate and real property
The creation of investment vehicles like REITs
Facilitating investment to fund the purchase of land for development
Bank deals as part of real property financings
PPSA registrations that banks or other creditors may demand
Even in the course of a strict real estate law practice, entity management needs will arise. So, what does entity management for real estate law look like?
1. Use a legal entity management platform that works with, and can organize, corporate groups and subsidiaries
Effective legal entity management for real estate law firms requires a system of organization that allows for entities to be organized into groups, including managing of sister companies and parent/subsidiary relationships.
For a real estate lawyer with a big commercial real estate developer or manager client, using grouping functionality makes it easy to continue to manage legal entities on behalf of your clients.
To begin, start by entering the name of the entity group for all the legal entities that relate to the same parent group. You can keep track of grouped entities using a simple Excel file, or, if your legal entity management platform has support for entity groups, simply enter the name under the "Entity Group" field for each of the respective entities.

Once you've entered the name of the legal entity group in your Excel file or in the "Entity Group" section of your legal entity tracker, you'll start to see that information in each of the respective entity summaries.

This makes it incredibly easy to identify what group or parent company each legal entity belongs to.
What's neat is that if you use a dedicated entity management platform for managing legal entities, you should be able to quickly search for your entity group to find all the related entities that belong to that group.

If you are using a modern entity management cloud-based system, you should have two additional features. One is global search, which lets you search across all fields in your entity database rather than initiate the process by slowly "running reports" on individual fields, which takes far more time.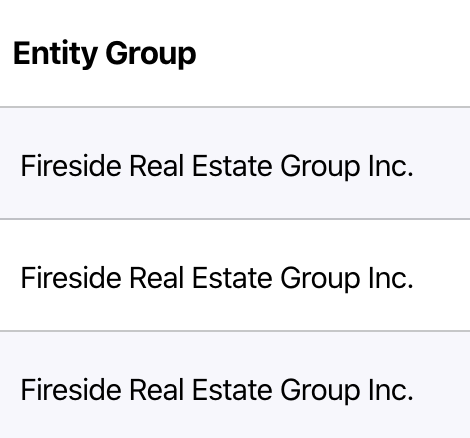 Second, a modern platform will have instant search that starts revealing all of the global search results instantly as you type. This is a huge time saver, especially when you're feeling over-worked or in a time crunch!
If you're not using a modern entity management platform with global search and instant search, you should still be able find all the entities in your entity group by running a report or conducting a traditional "field search."
If you need to manage even more complex subsidiary and parent relationships, most entity management cloud solutions make this possible through their share capital managers. So, for example, if you have a parent company called Fireside Real Estate Group Inc., simply use the share capital manager for a child entity to add Fireside Real Estate Group Inc. as a shareholder to create a parent/child relationship.
By issuing shares of the child entity to the parent company, a parent/child subsidiary relationship is easily formed.

2. Keep track of ownership interests in land
Many jurisdictions require legal entities to keep track of ownership interests in land in the corporate minute book. Usually this is done in a register or ledger called "Ownership Interest in Land." If you are keeping track of corporate entities using a spreadsheet or other manual process, you may also track ownership interests in land the same way as well. If you want to track ownership interests in land manually, you should make sure at minimum to track these fields:
Municipal address
Legal description
PIN (Property Identifier Number)
Roll Number
Ownership Interest
Date Interest Acquired
Date Interest Disposed
If you are tracking ownership interests manually for your minute book records, you can download a FREE Ownership Interests in Land Register template document for Microsoft Word. This template will make it much easier for any real estate lawyer to track a client's ownership interest in land within a given entity.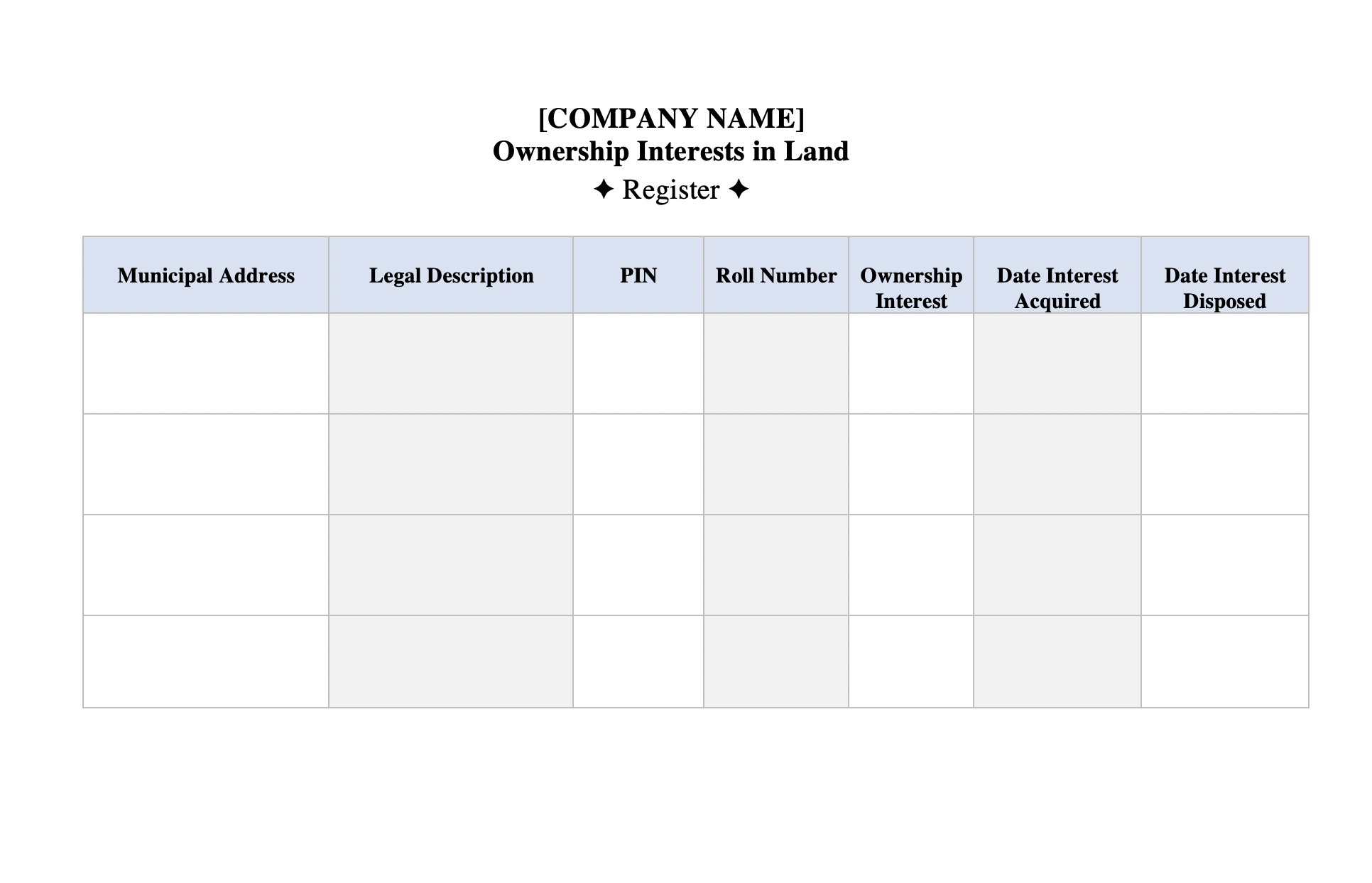 If you're using a more advanced system for entity management than a ledger like this should be automatically created once you enter in a few key pieces of information about the land owned by the company. When you combine this with a compliance calendar with date tracking you'll have one centralized single source of truth for all transactions of a corporation you are tracking. What's great is that you will also be able to set reminders for tasks related to these interests, whether they be reminders about registrations relating to the ownership interests or just keeping a proper and comprehesive timeline about the activity of a corporation managed in your real estate law practice.
What's next?
If you're managing a real estate law practice, you'll invariably find yourself servicing clients by helping with legal entity management. Even if it's just a small part of your practice, you'll want to ensure you're setup for success and providing the best service to clients. To do this, make sure you properly track legal entities by entity group or based on their subsidiary and parent relationships. You'll also want to make sure you pay close attention to any ownership interests in land. Many jurisdictions even require this information to be in the corporate minute book and be tracked using a ledger. If you need a ledger then use our FREE Ownership Interests in Land Register template document for Microsoft Word. You can download it absolutely free. If you're using an entity management platform, then this ledger should be automatically created and updated for you in the course of your regular entity management tasks. These minute books and ledgers can then be shared with clients very easily, if needed.