Business, corporate and commercial lawyers spend a great deal of time incorporating new companies for clients as a regular part of their practices. The old way of doing incorporations was tedious and time consuming. It involved manually drafting what are otherwise standard form documents and either sending them by mail to a government office or having a third party agent file on their behalf. Today, technology has streamlined online incorporation, which has a lot of benefits:
Online incorporations can be automated, reducing the amount of manual data entry and typing
Online incorporations are often approved by the government very quickly (instantly in some cases)
Online incorporations make it easy to choose the jurisdiction that you want to incorporate in without too much thought or effort
As you begin your easy online incorporation, be prepared to make a few important decisions. Most of these decisions can be modified or amended later, but it is always better to get it right from the start. Whether you are a lawyer or an individual looking to incorporate a new company, here are some of the questions you will need to answer:
1.What to consider when incorporating a new company online?
2. What jurisdiction should I incorporate my new company in?
3. What is the difference between a numbered company and a named company?
4. What to look for in an online incorporation platform?
There are many considerations when it comes to choosing in which jurisdiction to incorporate your new company. In Canada, you can incorporate your company pursuant to statutes (and corresponding jurisdictions) of the various provinces and territories in the country. This means that you can create a new Ontario company by incorporation, a new Alberta company by incorporation or a new Canadian company by incorporation, etc. Depending on your choice of jurisdiction for incorporation, your new company will be governed by the respective legislation. For example, if you incorporate a new Ontario company, your company will be governed by the rules and regulations of the Business Corporations Act (Ontario), whereas if you incorporate a Federal company, your company will be governed by the rules and regulations of the Canada Business Corporations Act. Although in substance these two acts are nearly identical, they do have minor nuances and idiosyncratic differences that any incorporator should be aware of. Best to consult your lawyer and accountant about to get their advice.
The incorporation question actually extends internationally. Of course, a Canadian company (whether it is Federal or Provincial) can do business in the United States, but for a number of reasons, it is quite common for a Canadian company doing business in the United States to incorporate a separate US legal entity. And just like there are differences in the rights and obligations of a new incorporation in Canada, same goes for incorporating in the US, where there are 50 states to choose from! If you are thinking of incorporating a new company in the United States, you will discover that Delaware happens to be the most popular and common choice for creating a new US company. While the linked article provides some insight, this is something you will want to address with a corporate lawyer in advance of making a decision.
Even if you make a mistake and incorporate your new company in the wrong jurisdiction, this can often be rectified through a process called continuance. For example, the Government of Canada has a helpful article on the policy of continuance of a Federal corporation. Although continuance can rectify an incorporation in the wrong jurisdiction, it is always best practice to make the correct choice at the outset and avoid the potentially expensive and lengthy process.
So, when you want to incorporate a new company, be prepared to decide in which jurisdiction you want to incorporate.
2. Who are the shareholders and what are the classes of shares in your new corporation?
When you make a new online incorporation, you will also have to make a decision about the corporate share structure of your company. For example, what classes of shares should be in my new corporation? Should I have common shares and preferred shares or just common shares alone?
A share structure can rage from simple and easy to extensive (and complicated). You can have multiple authorized common share classes and multiple authorized preferred share classes in a company. Each share class can even be issued in differend "series" so that the corporation has maximal flexibility, allotting different rights and privilges to different classes or series of shares.
Although it is best to have the answer to this from the outset (much like the choice of jurisdiction), this too can be rectified in the future if you wish to change it. Similar to jurisdiction, however, changing it in the future can be time consuming or cause unecessary expense. In Canada, for example, a new company formed pursuant to the Business Corporations Act (Ontario) will have the authorized share classes, the rights and privileges of the authorized share classes and the quantum or number of shares that are authorized by the corporation for distribution outlined in the Articles of Incorporation. To change this at a later time requires a formal amendment to the Articles of Incorporation, which then entails approval by those that govern the company. It's a small headache that can be prevented by simply thinking about this question and your corporate needs in advance. If you don't quite know what the needs of your new company will be, it is best to seek the advice of your lawyer. Your lawyer will ask you about how you intend to operate your business and provide advice accordingly.
For example, incorporating a new company to hold a family trust will have a much different corporate structure than a new corporation for a farm, which will of course have a much different corporate structure from a new technology startup company incorporation that plans to seek investment from friends & family, angel investors and venture capitalists.
To illustrate just how different share capital structures can be, here are a few possible examples .
Class "A" preferred shares. These preferred shares can be given a 10% priority dividend, be redeemable by the corporation at a set redemption price and be non-voting shares. These shares will be last in priority upon dissolution compared to the other preferred classes of shares. There will be an unlimited number of authorized shares for this class of preferred shares.
Class "B" preferred shares. These preferred shares can be given a completely discretionary dividend that is decided upon by the directors of the corporation, can be retractable at the redemption price upon dissolution and be non-voting shares. These shares will be second in priority upon dissolution amongst the other preferred classes of shares. There will be one million authorized shares for this class of preferred shares.
Class "C" preferred shares. These shares can have no dividend rights, be redeemable by the corporation, will be first in priority upon dissolution and be non-voting. There will be 500,000 authorized shares for this class of preferred shares.
Common Shares. These shares will have no dividend rights and will be the only voting class of shares of the corporation. Also, this class of common shares will have the lowest priority upon dissolution of the company, receiving the "remainder upon dissolution" if any, once the rest has been given the different classes of preferred shares according to their respective priorities. There will be an unlimited number of authorized shares for this class of common shares.
Here is what the authorized capital of such a corporation might look like in an entity management and cap table tracking application.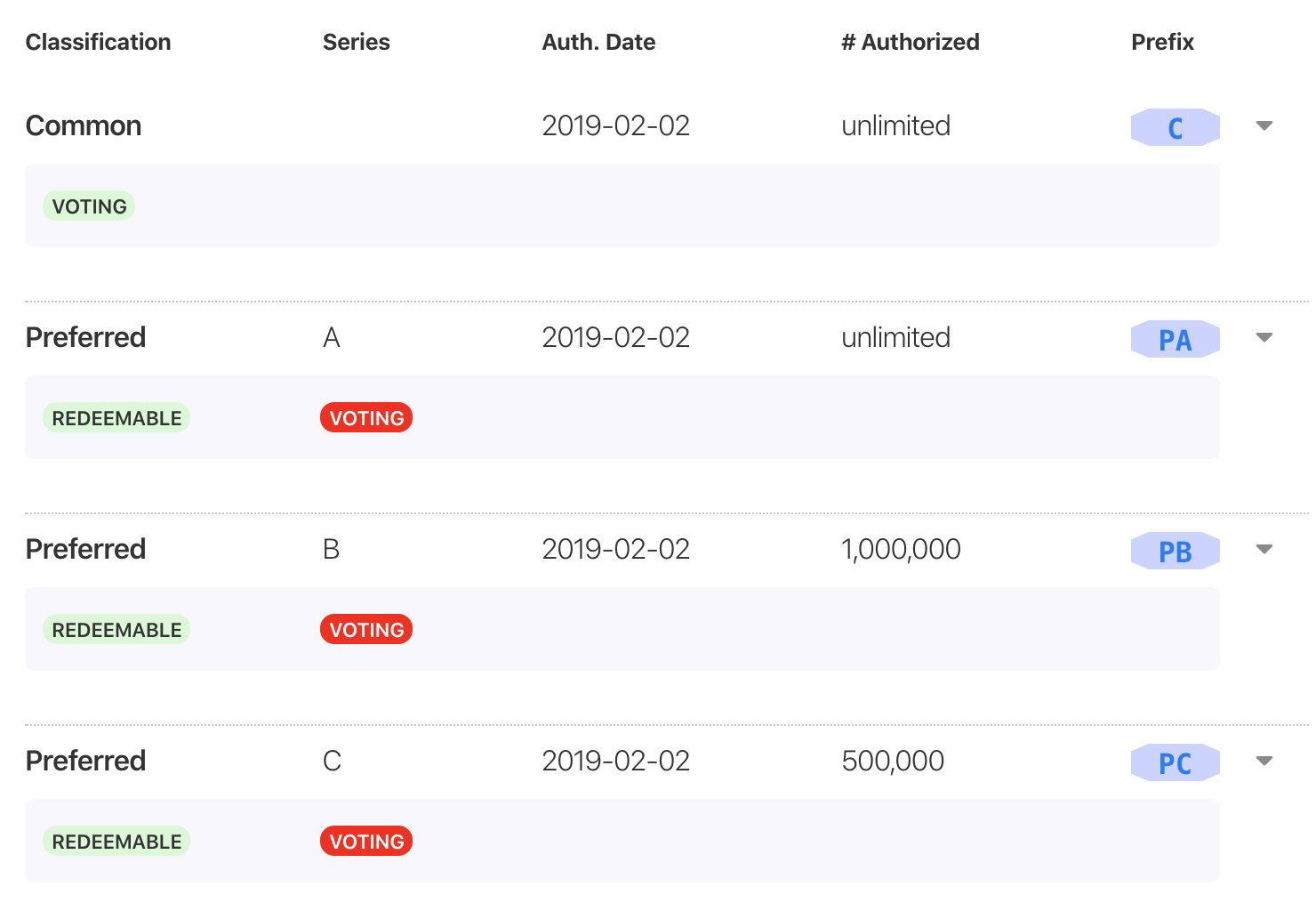 Conversely, the most common basic share structure is to authorize one class of common shares and one class of preferred shares, each with an unlimited number of authorized shares. For a simple share structure like that, here is what the authorized capital might look like.

So, as you can see, when incorporating a company, you will need to decide on the capital structure of the corporation. Yes, this is something that can (and with many companies invariably will) be amended from time to time over the course of the life of the company. Rather than having to go through one or more restructurings, it is best to at least try and find a share structure for your company that best represents what you plan to use your newly incorporated company for. Depending on you use cases, your lawyer might advise you to authorize certain classes and series' of shares in your company's contitution at the outset.
3. What is the difference between a numbered company and a named company?
Another important consideration when incorporating a new company is whether to give that company a specific name, for example, Ace Alice Inc., or to just let the government assign a random clerical number, for example, 3958291 Ontario Inc.
Both Ace Alice Inc. and 3958291 Ontario Inc. are legal companies with the same legal rights and privileges (assuming they have both been incorporated in the same jurisdiction, which in this case is Ontario). The only difference is the legal name. If you're thinking of starting a new coffee company, say Latte Larry's, you might think "Hey, there's no way I'm simply letting my company name be 3958291 Ontario Inc., I want it to be Latte Larry's Inc." It's important to know, however, that your legal company name does not need to be the same name as the name you publicly hold out as a brand name under which you are doing business.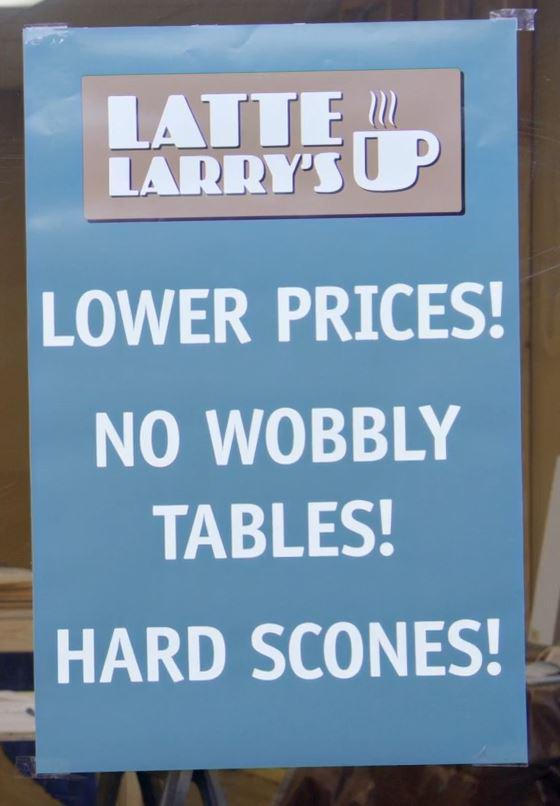 Many numbered companies operate with a business name, also called a "doing business as" or "DBA" name. You might have even seen this on websites or at physical company locations before. In our example, you would see something like "3958291 Ontario Inc. dba Latte Larry's" on the company's website. Still, many people desire that their corporate name be an actual name, rather than a numbered company and this essentially comes down to a preference. Even if you have a named company, the name of the company you use for branding and marketing or doing business as could still be different. Even in our Latte Larry's example, your actual company could be Hard Scones Limited doing business as Latte Larry's. But, if you really desire, you can just incorporate with the name Latte Larry's Inc.
There are a few other reasons that people that are incorporating a new business might choose to use a numbered company:
A numbered company can usually be registered more quickly than a named company, which requires some additional searching to ensure you can actually use the name. So if you are in a rush to form a company due to some external deadline that is out of your control, a numbered company will almost always be faster to form.
A numbered company does not require a NUANS name search to verify that the name of the company is available for use.
Some people haven't yet decided on the name for their company but have decided on what their business will do or they just want to get started on business operations and will simply decide on a corporate name at a later date.
Sometimes you want to start your company but you are still waiting to hear back from your trademark lawyer to ensure you will be able to protect your company's trademark. This is different than a NUANS name search, which does not tell you the trademark status of the name you are looking to use.
Some types of businesses simply have no use for a proper name. For example, holding companies, temporary companies used for specific purposes or even permanent companies that are subsidiaries of another named company, may simply not require a proper corporate name.
Once again, you should know that none of this is set in stone. Whether you name your company now or just start with a numbered company, this can all be changed later. All you need to change your numbered company name to a named company name is obtain a NUANS report and then file a Notice of Change or Notice of Corporate Name Change (depending on your jurisdiction) with the appropriate government body. There will likely be a small filing fee and in some cases it might take a few days but ultimately you will be able to change your corporate name after incorporation.
4. What to look for in an online incorporation platform?
All of the above steps are necessary for the proper incorporation of a new company. Many of these steps can be made easier and quicker by using online tools and services rather than doing things manually, which is how they have been done for a long time. If you are considering using an online incorporation platform, here are a few important features to look for:
Security. Most online services use only the most basic security. When you are dealing with incorporation and entity managenemt, simple SSL and basic encryption is not enough. Make sure you put any service through a complete security audit before using any of the features or tools.
Name search. Ensure that you can really do everything inside of one platform, including steps that are pre-requisites to your incorporation including conducting a NUANS name search right from within the same platform that you plan to use for your online incorporation.
Easy entity management. Incorporating your first company is just the beginning. If you plan to grow your business, you're likely going to be incorporating multiple companies. If you are a lawyer doing incorporations on behalf of clients then you are likely going to be doing the ongoing annual maintenance and compliance work for these companies as well. Also, don't forget, incorporation of your new company is just the beginning of a process, there's much more to do like annual compliance and company organization. Try to find a tool that grows with you throughout the life of your company and provides you the features necessary to undertake the additional necessary tasks.

Once your company is incorporated, you'll need to make sure that all of the incorporation documents are kept in the corporate minute book. The corporate minute book can be a physical binder with all of this information or, as is increasingly the case, the minute book is a digital combination of documents and data that describe the structure and business of the company.

What to do after you incorporate your company?

So that's everything right? Not so fast! After you have decided on the above considerations and actually gone ahead and incorporated your company, there are a number of subsequent one-time and ongoing requirements. Depending on your chosen jurisdiction, you need to file certain forms with the government within a certain timeframe. Also, you'll need to actually "organize" your company, which means doing things like issuing your shares to shareholders and drafting and signing your corporate by-laws. You'll likely need to produce governance documents annually. You'll want to use an entity management platform to do this as it will automate most of these tasks.