The Post-Incorporation Checklist
How to prepare a minute book after incorporation – The essential guide
About this Guide
This guide provides a simple reusable checklist of steps to follow once you've incorporated a federal corporation in Canada. It includes the essential steps to prepare a minute book, organize a company and report to your client.
View Guide Now
Last updated on
March 11, 2022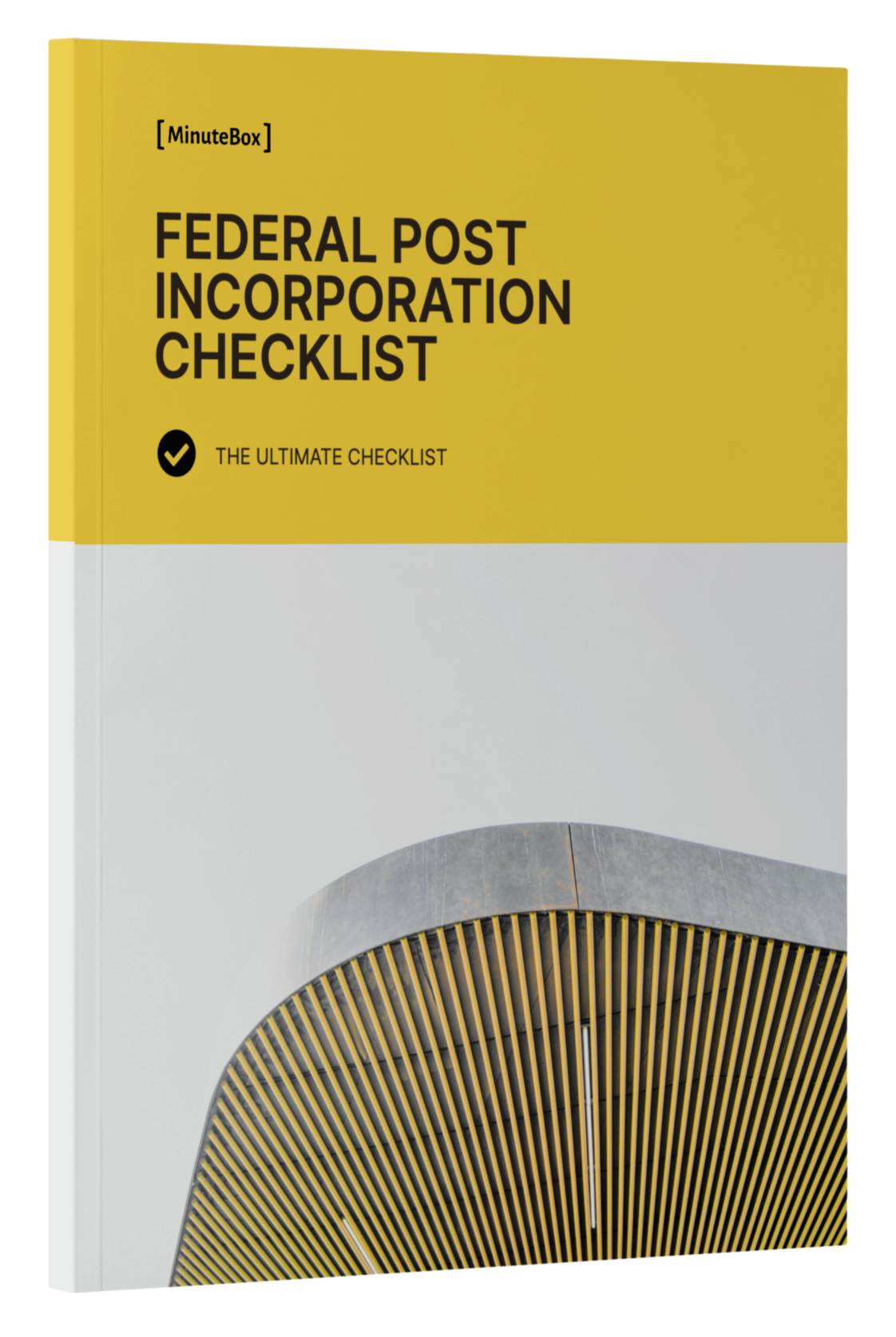 The Post-Incorporation Checklist
What You'll Learn in This Guide
So you've incorporated a new entity? That's just the beginning. Once you've incorporated your new company the next stage of the process involves organizing the company by creating the digital minute book and producing the standard and necessary documents that go into a minute book.
But! Before you get started with your post-incorporation entity organization, you will want to make sure you're staying organized as well. That's why, before you start organizing your company, you'll want to complete a basic information form about the company so you can keep track of your scope of work and the essential details.
Check out the basic details and instructions below 👇 for what you'll want to track. This includes the name of the corporation, the date you're performing this work, your initials (for record and audit purposes), any instructions you have received from a supervising lawyer or the client, the date of incorporation and the fiscal year end of the entity. Once you've got these basics down, you're all set to begin your post-incorporation organization of the company.
In this guide you'll learn the following
When to create a digital minute book
Which types of organizational documents go into a minute book
When to prepare a shareholders agreement
What entity governance and compliance dates to diarize
When you need to prepare a transmittal letter
POST INCORPORATION PROCEDURE CHECKLIST - Federal Corporation
Basic details and instructions
Name of Corporation:
Date:
Your Initials:
Instructions received from (if applicable):
Date of Incorporation:
Fiscal Year End:
Not Legal Advice: All content presented herein is for informational and demonstration purposes only. Nothing should be construed as legal advice. Do not act upon any information presented without seeking professional counsel!
Once the corporation has been incorporated the following is required:
Step A
Create a virtual minute book using the firm's branded digital stationery tabs
Tip: If you do not have custom-branded stationery you may use the default stationery style or contact MinuteBox support to learn how to create branded stationery. Using branded minute book tabs is a great way to stand out to your clients and is highly recommended. You may also browse pre-made stationaries on MinuteBox App Store.
(a) prepare a memo to accounting or enter a disbursement for the cost of the Minute Book according to your firm's policy. If you're using a virtual cloud-based minute book system, simply create a new entity and begin entering in the relevant details to the database; and
(b) if you're still using physical minute books, prepare a tag for the spine for the Minute Book.
Step B
Prepare Organizational Documents:
(a) First Director Resolutions
(b) Resignation of First Director – if the director listed on the Form 2 resigns
(c) Consent(s) to Act by the directors – if not already signed during the incorporation process
(d) By-Laws
(e) Shareholders Resolutions
(f) Subscription(s) for Shares
(g) Registered Office Agreement – if the law firm will act as the agent for maintaining the corporation's registered office
(h) Share Certificates
(i) Form 6 – Changes Regarding Directors – if there is a change in directors; and
(j) Securities Register
Step C
Prepare shareholder agreements, if necessary
Determine whether the shareholders will enter into a Unanimous Shareholder Agreement or a Shareholder Agreement. Prepare a Sole Shareholder Declaration if appropriate. If there is a Unanimous Shareholder Agreement or Sole Shareholder Declaration, a legend indicating that there is a Unanimous Shareholder Agreement or Sole Shareholder Declaration may need to be inserted on the face of the share certificates, depending on your jurisdiction.
Step D
Extra-provincial registrations
Determine whether the corporation will be registered extraprovincially in any province or territory of Canada or elsewhere. If the corporation will be registered extraprovincially, check with your agents in each jurisdiction to determine the registration process
Step E
Diarize annual return date
Diarize the anniversary date of incorporation as an annual return must be filed with Corporations Canada within 60 days of this date. The reminder can be set up electronically using corporate records management software or manually according to your firm's procedures and tickler system process. If you are using MinuteBox, this date is automatically diarized in the Compliance tab.
Step F
Diarize fiscal year end date
Diarize the financial (fiscal) year end of the Corporation as annual consent resolutions or minutes of the annual general meeting must be dated within six months of this date but if the corporation actually holds a meeting there will be additional requirements. If the fiscal year end has not yet been decided, you must bring the file forward and follow up with the client and/or accountant to ensure that you obtain this date and diariaze it. If you do not have an electronic corporate database that is able to diarize this for you, follow your office procedure for bringing forward files and annual maintenance dates – for example: by preparing a "to do task" organized by date or by entering the corporation's name and annual meeting due date in a list organized by month. If you are using cloud entity management software like MinuteBox then the bring forward date will automatically be created for you
Step G
Prepare Transmittal Letter
If the client is not signing the documents at your office, prepare the Transmittal Letter enclosing all documents in p B and C above, as appropriate, for the client's signature
If you're using cloud entity management software with e-signature roundtripping then you can simply send the documents out from your secure portal for signature and they will return automatically once signed
Step H
Once the documents have been signed and returned to the law firm:
If there is a change in directors, forward the appropriate form ( e.g. Form 6 – Changes Regarding Directors to Corporations Canada) for filing or e-file the notice directly from MinuteBox
If the corporation will be registered extraprovincially in any jurisdiction, submit the required documents and fees to either your agents in that jurisdiction or directly to the appropriate corporate registry
Note that federal corporations in Newfoundland and Labrador, Nova Scotia and Ontario can take advantage of a customized service that automatically selects the appropriate provincial registration forms, inserts relevant information, then guides filers through the additional requirements using Corporations Canada Joint Online Registration System which can be accessed at https://www.ic.gc.ca/eic/site/cd-dgc.nsf/eng/cs05260.html. Many of these tasks can also be completed directly within MinuteBox
If there are extraprovincial registrations, generally the law firm inserts a tab with the name of the appropriate jurisdiction in the Minute Book and inserts the extraprovincial registration documents under the tab. If you don't have pre-printed tabs for the various jurisdictions, you could insert two tabs under the Charter Documents / Articles tab with the first labelled "1" for the federal charter documents and a second tab with the number "2" for the extraprovincial documents. Some law firms prefer to set up a separate minute book for each extraprovincial jurisdiction that the corporation registered in. Other law firms keep the extraprovincial registration documents and all documents relating to the registration of the corporation in that jurisdiction in a file folder kept for that purpose. Finally, if you are maintaining a digital minute book then you can simply create a tab section called "Registrations" and file all relevant documents under that tab for easy organization of extra-jurisidctional registrations
Prepare the Report Letter to the client
Prepare a Statement of Account or arrange with your accounting department to prepare a statement of account for the incorporation, organization and extraprovincial registration(s), if applicable.
Join a Live Demo of our Entity Management Platform for Law Firms
Join us for a live walkthrough. See what MinuteBox can do for your practice.
Book a Live Demo
What you should do now
Whenever you are ready...here are 4 ways to improve and scale entity management for your legal department
Claim your free entity management consultation. If you'd like to work with us to learn how to turn your corporate legal department into an efficient revenue producing machine, join us for a free consultation. One of our experts will take the time to learn about your business and current processes. We'll develop a custom plan to show you how you can transform your operations and modernize your legal department.
If you need free entity management resources to improve your process today visit our guides or webinars pages where you can access the very tools we use to optimize entity management processes for corporate legal departments.
If you happen to know a legal professional that might benefit from reading this page please share this on LinkedIn, Facebook or Twitter.
If you want to be part of changing the way legal work gets done in the 21st century and work alongside a passionate, innovative team, then check out our careers page, we're hiring amazing talent!