Startup lawyers have one of the most exciting practices in all of corporate law. First, they get to interact with some of the biggest moonshots out there, including entrepreneurs that believe they can change the world (p.s. we think they can, too!). Second, startup lawyers often act as important early resources and mentors for new enterprises.
If you're building a practice around advising startups then efficient entity management will be one of the most important parts of your practice. Every new venture (usually) starts with the creation of a new legal entity. In most cases, this will be some form of an incorporation.
Even from these early decisions, an entrepreneur will seek the advice of counsel on questions like:
What kind of corporate entity should I be using for my startup?
What is the best capital structure for my startup
In which jurisdiction should I incorporate my startup?
How do I setup an employee stock option plan or incentive stock option plan for early startup employees?
Entrepreneurs count on the good advice of startup counsel to help them through these difficult early questions and startup counsel will in turn be relying on good systems, tools and processes to manage their clients and the various aspects of the corporations they manage on their behalf.
So, how can a startup lawyer best track and manage all of the companies they manage for startup clients?
Step 1: Centralize all your corporate records
The most crucial step to entity management for startup lawyers is to have one centralized system for managing entities. Many experienced lawyers will tell you about the pit-falls of using more than one system to manage legal entities. Even the best law firms find themselves using more than one system for managing entities. For example, most law firms still maintain physical minute book binders in a library, storage room or in legal stacks in their offices. It's tough enough to keep all these books organized and managed, but often, they are left out of date and only organized last minute when absolutely necessary (like right before a corporate transaction).
Then, most law offices will use some form of software to keep track of the important data relating to the corporations. For example, even in the simplest form, a basic Excel spreadsheet that tracks:
The corporation name
The client name
The corporate address
The directors, officers and shareholders
The various classes of shares and the rights attached to each class
Important corporate governance compliance dates
If a law firm is tracking and managing more than 50 entities, they are probably using some type of specialized legal entity management software. Specialized legal entity management software is purpose built software designed specifically to track, manage and assist in compliance for legal entities. It is usually a combination of specific databases combined with minute book document storage and document assembly. In some cases it might also include capitalization table management features as well.
Believe it or not, we've seen law firms using more than two systems to track their legal entities. A third system might include summary information sheets that are stored locally on the internal servers of a law firm so they can quickly access information about a corporation without needing to go into the entity database application. One of the biggest reasons for this is that most installed or on-premises legal entity database applications have restrictions around the number of users that are allowed to use and access the information. So if you have a law firm with 100 lawyers and 15 law clerks, it may be the case that only 2 lawyers and 5 law clerks are authorized with a "license" to use the firm's entity management software. Because of this, firms maintain a separate data set (usually with a digital entity information summary kept on a hard drive in the firm's intranet) so that anyone can access important corporate information.
In any case, the most important component to building a startup law practice is to avoid this bifurcation (or in some cases, trifurcation) of legal entity management by using a system that combines the minute book pages, entity database and ongoing governance features in one centralized location.
With one centralized list of all of your entities, you can easily find information about them whenever and wherever you are.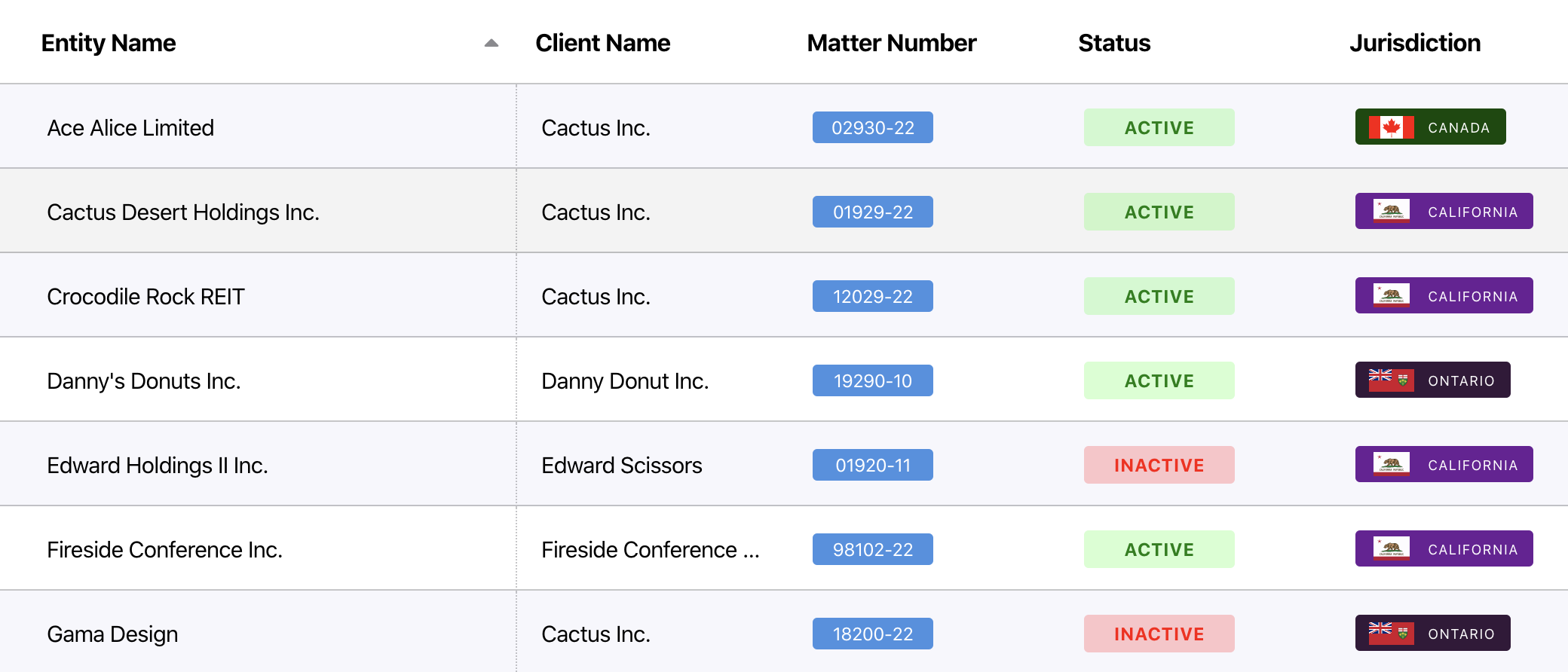 Well, technically there is one catch to the idea of finding legal entity information "whenever and wherever you are." The one thing not mentioned above, is that most legal entity management solutions are on-premises, in addition to having restrictive licenses that only allow certain people to access them.
So, what does on-premise legal entity management mean?
On-premise legal entity management means that the software you use needs to be directly installed on each computer terminal or it needs to be installed on a custom computer server that is maintained at the same physical location as those that access the software (i.e. the law firm office). Such systems typically require an expensive set-up or initiation fee, as well as an IT team to continually maintain the server for availability and (more importantly) for security.
This is quite different from cloud technology, which is software that can be accessed through any modern web browser and which does not require any physical servers to be installed or maintained at a law firm office. Instead, the software provider maintains their owner servers to ensure the proper functioning of the legal entity management application for all of its clients.
Some on-premises legal entity management software providers will claim that their software is "in the cloud" or can be "accessed from anywhere," but if it requires software to be installed on your computer or a server to be setup at your office, then it almost certainly is not really "cloud software." Instead, it's legacy on-premises software pretending to be cloud software. While it may in fact be accessible from outside the office, it requires additional setup and ongoing maintenance which can be expensive and insecure. Even things like simple software updates can be a pain and require access to the server terminals where the "server" software is installed. With cloud software you do not need to worry about any of this.
To summarize, if you want to access your centralized collection of minute books and legal entity information anytime and from anywhere in the world, make sure the solution you choose is actually in the cloud and not just on-premises software pretending to be cloud based.
Step 2: Invite your startup clients and their investors to access the minute book with minute book sharing
Now that you have a good system in place that centralizes minute books into one single source of truth, you should be proactive and share the minute books with your client and (if your clients approves) other stakeholders that may also want regular access to the corporate records, like their accountant and investors. In some jurisdictions, shareholders may also have a right to view and inspect a minute book on demand. It is, of course, always good practice to speak to your clients about what they want to do first. Either way, when you need to share a minute book it is as easy as entering an email address and hitting send.

If you want to share the minute book of a client but only temporarily, then check if your cloud entity management provider supports share link expiries. If so, then you can also share minute books for things like transactions for just a set period of time.

So, how do you best manage legal entities for startup law? Make sure all your legal entities are available in one centralized place, share the minute books with your clients and track current and future shareholdings with a capitalization table manager. Use legal entity management software that works for you. With these steps you will find it much easier to manage a growing startup corporate law practice.
Step 3: Track shareholdings with a cap table manager
Possibly one of the most important things for early stage startups to track and manage is their capitalization table. Cap tables can be incredibly easy to manage. Yes, you read that right. Cap tables can be incredibly easy to manage. But, at the same time, they can very easily become disorganized or filled with incorrect data. You certainly don't want to discover this on the eve of a big deal or just as certain options are ready to convert. Whatever option you choose, make sure it is one that is closely connected to your minute book and the authorizing resolutions for various share capital authorizations, issuances and option plans. To ensure everyone is on the same page, make sure it can be shared along with the minute book to the appropriate stakeholders, which may include the client, lawyer, accountant, investors and even shareholders, beneficial holders and future holders.
At minimum, any share capital tracker for startup law will need to allow the lawyer to create different share classes, issue current and future shares and perform various share transactions.
Once you've decided on the right share structure for a startup company, make sure to correctly authorize those shares. It's common for early stage startups to have just one or two classes of shares, Common Shares and Preferred Shares.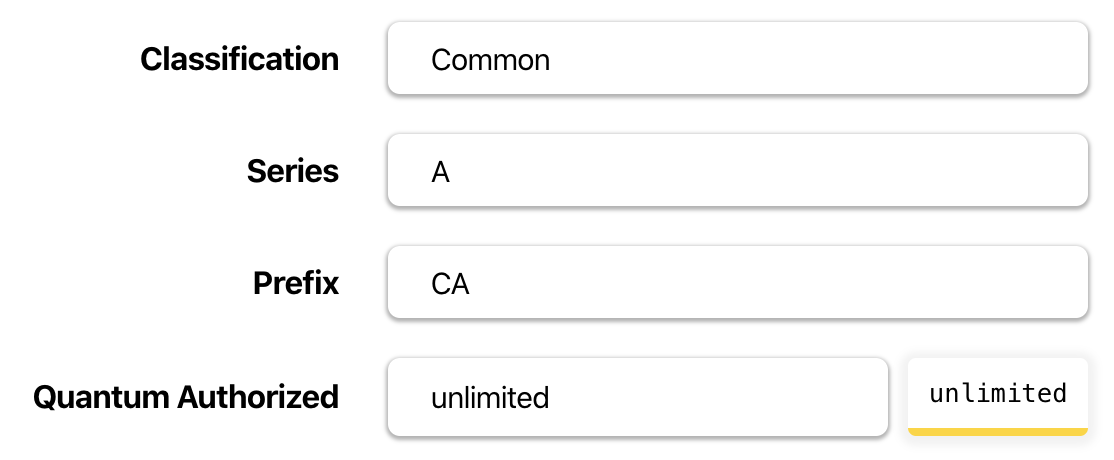 Creating the share capital of the corporation is just the beginning. You'll also want to make sure you are properly tracking the rights of the share classes. For example, some share classes may have voting rights, while others do not. It is most common, for example, for common shares to have voting rights and for preferred shares to not have voting rights. Preferred shares, since they do not have voting rights, will usually have different rights associated with them, for example, having a preference to the assets of the company in the event of a bankruptcy and liquidation or other liquditiy event, such as a merger, acquisition or public funding event.
Be sure to set and track the rights and properties of your share classes. This way, when your client asks (or even better, when they login to your system to view for themselves), the rights of various shareholders can be easily found.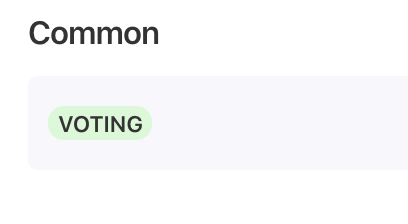 Now, when you issue shares for a class, not only will you know the meaning behind the shares of a given class, but with a proper cap table, you'll also be able to see how many shares are held by each individual. This is super helpful for startups, especially in their earlier stages, while they are attracting new investment and employees, all of whom will end up on the cap table at some point.

So, what's next?
Running a startup law practice is very difficult, especially when it comes to managing a growing practice of legal entities. The good news is that a proper system for legal entity management can make keeping track of startups easy for a corporate law firm. Here's a summary of what you should be looking for in a system to stay ahead of the game: 1) Centralize all your entities and records into one system so you have a single accurate source of truth. Preferably use a cloud system so you can access information anytime and from anywhere. 2) Use a system designed with secure minute book sharing so you can invite your clients and any other authorized stakeholders to use the system at their own leisure, reducing disruptions to you and unbillable time answering easy questions. 3) Make sure any system you use is closely coupled with capitalization table manager so nothing gets out of sync between the corporate authorizing resolutions and the actual cap table.