Request to Inspect Minute Book Records
How to prepare for a minute book inspection
About this Guide
This guide provides a simple reusable checklist of steps to prepare for a third-party request to inspect a corporate minute book.
View Guide Now
Last updated on
March 11, 2022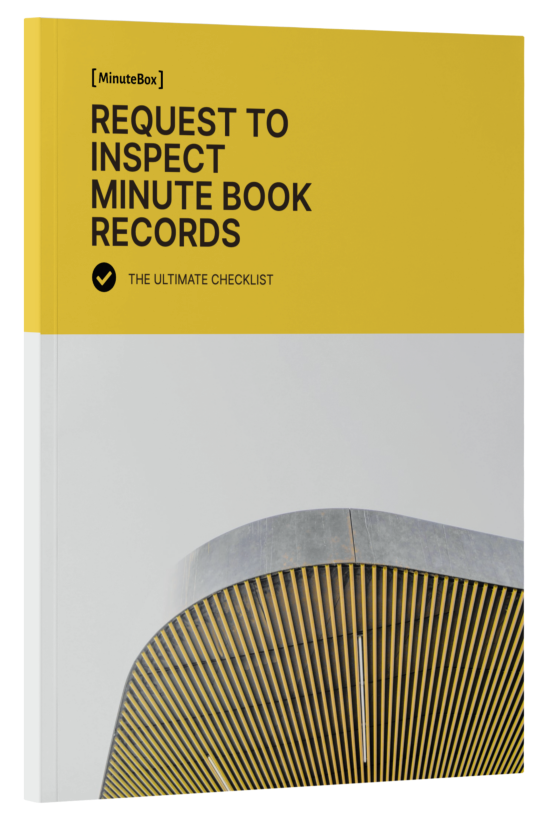 Request to Inspect Minute Book Records
What You'll Learn in This Guide
Be very cautious when asked by an individual to allow inspection of a corporation's records. Members of the public are not entitled to see anything in the Minute Book, unless the corporation is a distributing corporation. Check the Act and/or with your corporate supervisor and/or lawyer before showing any corporate records to anyone. In addition, the client should also consent.
If the applicant is seeking a Shareholder List setting out the names and addresses of the shareholders of the corporation along with the number of shares held by each shareholder, an Affidavit (to Receive a Shareholder List or Inspect Securities Register) may also be required depending on your jurisdiction and a fee may be payable as well. For e.g.see see s. 23(3) of the CBCA
In this guide you'll learn answers to the following
Who has a right to inspect minute book records?
Who to alert when a request to inspect a minute book is made?
What to do when you receive a request to inspect corporate records ?
What to do when the inspector arrives to see a minute book?
How to share minute book documents for inspection digitally?
Not Legal Advice: All content presented herein is for informational and demonstration purposes only. Nothing should be construed as legal advice. Do not act upon any information presented without seeking professional counsel!
Step A
When You Receive a Request to Inspect Records:
1. Notify the supervising solicitor, lawyer or attorney of the request for inspection
2. Complete a Request to Inspect Records form and advise the person you will set everything up and call them back to confirm the appointment
3. If you have a conference room, arrange to book it for the required time and date. If you use a cloud-based entity management platform like MinuteBox then you can provide secure access via the platform itself. If you provide virtual access, be sure to set an expiry date to ensure the individual does not have perpetual access. If you are still using physical minute books then complete the remaining steps
4. Telephone the caller to set up/confirm appointment
5. Diarize the appointment
6. Separate the corporate records as necessary into the records that may be inspected, and the records that may not be inspected. If you are sharing virtually, ensure to only select the virtual tabs that you desire to share
7. If the Minute Book cover has "internal memos" taped to the front or any other materials which are not available for inspection, move the contents of the records that the caller is entitled to see into a temporary binder
8. Review the contents of the Minute Book to ensure nothing "private" is mixed in with documents that the caller is entitled to see (e.g. internal memos, documents filed behind registers, or minutes of meetings held privately or "in camera")
9. If the caller is the auditor of the corporation:

(a) check shareholder minutes/resolutions to see if the auditor was appointed
(b) obtain confirmation/authorization from the responsible lawyer or client that the auditor may see all corporate records

10. If the caller is a director or shareholder of the corporation check the Minute Book to ensure he or she is a current director or shareholder. Check the file to ensure that there is no work in progress (such as "removal of director"). If you are using a database like MinuteBox, simply check for "current" directors in the database
Step B
When the Requestor Arrives:
Ask for photo identification to verify the identity of the inspector, even if the person is known to you (except in the case of a distributing corporation when outsiders may remain anonymous) – write down the details of the identification (i.e. driver's licence number)
Make a list of the records that were shown to the requestor
If photocopies are requested by the auditor, a director or shareholder, charge the copies to the file
File Request to Inspect Records form in file
Return the file to the file cabinet, reassemble the Minute Book and return it to the shelf. If you are using a digital entity management system for legal entities then this step is not necessary
Join a Live Demo of our Entity Management Platform for Law Firms
Join us for a live walkthrough. See what MinuteBox can do for your practice.
Book a Live Demo
What you should do now
Whenever you are ready...here are 4 ways to improve and scale entity management for your legal department
Claim your free entity management consultation. If you'd like to work with us to learn how to turn your corporate legal department into an efficient revenue producing machine, join us for a free consultation. One of our experts will take the time to learn about your business and current processes. We'll develop a custom plan to show you how you can transform your operations and modernize your legal department.
If you need free entity management resources to improve your process today visit our guides or webinars pages where you can access the very tools we use to optimize entity management processes for corporate legal departments.
If you happen to know a legal professional that might benefit from reading this page please share this on LinkedIn, Facebook or Twitter.
If you want to be part of changing the way legal work gets done in the 21st century and work alongside a passionate, innovative team, then check out our careers page, we're hiring amazing talent!